Here at Steamboat Hot Springs Healing Center & Spa, we believe strongly in the healing properties and abilities of natural remedies. One of our favorite and most effective products that we use is cannabidiol, or CBD. 
We source our CBD oils and muscle rubs from a wonderful company located out of Colorado called Sopris Health & Wellness. Our team was lucky enough to stumble upon them at the Hot Springs Convention last year in Palm Springs, CA. We truly believe that Sopris has some of the best CBD products on the market. Sopris Health & Wellness is completely FDA-approved and is extremely safe to use on the body. At Steamboat, we understand the importance of botanicals in natural remedies. That's why we chose to work with Sopris because they understand the holistic benefits of using natural herbs and botanical extracts to enhance the properties of their full-spectrum CBD oil. 
We have also been fortunate enough to find another awesome CBD company located out of Northern California that crafts some of the best and finest quality CBD bath salts. This company is called Vertly Balm. They hand massage, in small batches, essential oils and CBD into their bath salts. We allow guests to add CBD bath salts to their mineral baths as an add-on, or they can purchase a full bag to take home. Our water in itself has a huge healing and pain relief impact on the body due to our water's density of minerals, but we encourage guests to add Vertly's CBD bath salts to their soaks if they are in need of some extra pain relief due to the stress of day-to-day life or if they have endured any strenuous activities on the body. We are true believers that self-care and holistic practices are excellent ways to maintain long-term health benefits and the overall well-being of the body.
We pride ourselves on having some of the best massage therapists in Northern Nevada, all specializing in different massage techniques and healing styles. All of our therapists would agree with the healing benefits of CBD and massage experiences and they thoroughly enjoy incorporating CBD creams and oils into their massages when clients request this add-on. Some of the major benefits of topical CBD are pain relief and it's proven to be anti-inflammatory for the muscles and joints. The best part about CBD and its true healing abilities, is that CBD does not just mask pain, it actually alleviates and removes pain in a particular part of the body for a significant amount of time. 
Benefits of CBD 
Unlike over-the-counter medication and harmful pharmaceuticals, CBD doesn't have any negative long-term side effects on the body. Our cannabis plant-based CBD is a pure CBD blend and contains no trace of THC. This means that CBD affects the endocannabinoid system and will not alter your state of mind in any way. It will not show up in the body as a drug. Our bodies contain cannabinoid receptors that affect our appetite, mood, sensation of pain, and our immune system. 
Some of the most major physical benefits of CBD massage include:
calming the nervous system

adding pain relief from arthritis, multiple sclerosis, muscle pain, fibromyalgia, spinal cord injuries, and more

help alleviate anxiety and improve mental health

boost the immune system

lower blood pressure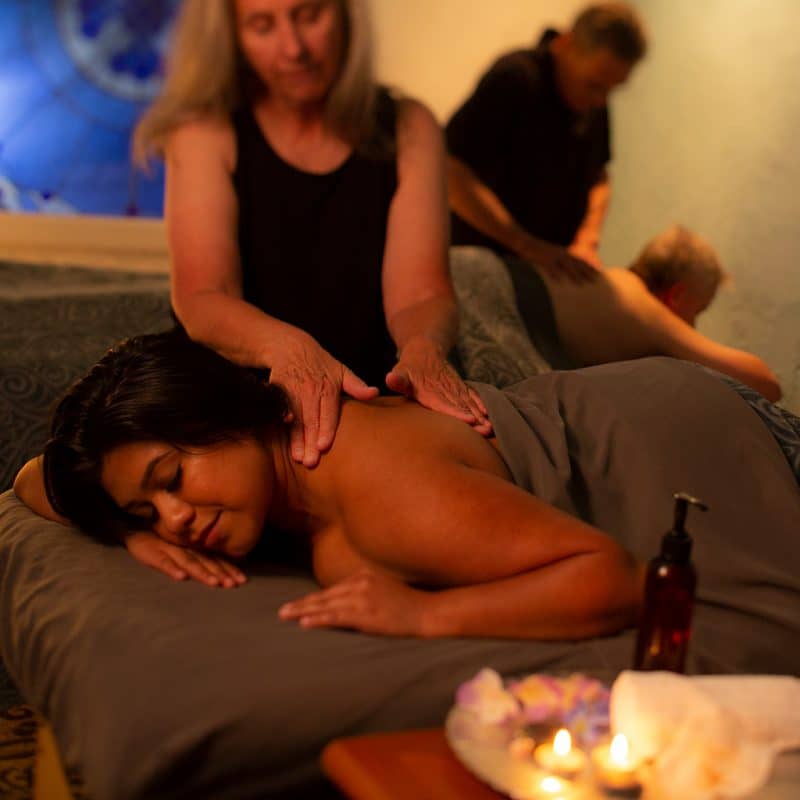 If you have any chronic pain, we encourage you to try a CBD massage therapy service with any of our wonderful therapists. 
Hemp oil is also known to improve various skin conditions like acne, eczema, psoriasis, and sun damage and is found in various skincare products. Try it for yourself; you just might be surprised as to how well regular massage therapy and the combination of CBD actually works! 
Of course, we always recommend pairing any treatment with a mineral soak to enhance the benefits of each service. We are always looking for ways to improve our healing services and to make them even more effective, so we hope you enjoy these new CBD additions to our offerings. We look forward to helping you relax, improving your health, and heal your body, mind, and spirit!